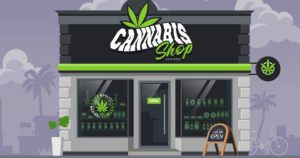 In 2018, Oklahoma made a historic move in legalizing medical marijuana for qualifying patients. This was a major step forward in providing access to alternative forms of medicine and creating more opportunities for entrepreneurs. The new law opened the door to those looking to open their own medical marijuana dispensaries, which can be lucrative business ventures.
Opening a dispensary requires careful planning and research into local regulations as well as state laws. It also takes time and money to get everything up and running, so it's important that potential dispensary owners understand what they are getting into before jumping in with both feet.
In this article, we will provide an overview of opening a medical marijuana dispensary in Oklahoma, including information on licensing requirements and other legal considerations.
Let's dive in!
What is a Marijuana Dispensary?
A marijuana dispensary is a store that specializes in selling medical marijuana products for medicinal and recreational purposes. In Oklahoma, these dispensaries must be licensed by the State Department of Health and must comply with all state laws regarding product sales, display, and transportation.
Medical marijuana dispensaries in Oklahoma offer a variety of products to meet the needs of their customers. These include:
Mature plants
Mature plants, as the name indicates, are full-grown marijuana plants that are harvested, trimmed, and packaged for sale. These typically contain higher concentrations of THC than seedlings or young plants.
Seedlings
These are the young marijuana plants that can be purchased at a dispensary and grown into mature plants.
Concentrates
Concentrates refer to any product that is highly concentrated with cannabinoids such as CBD, THC, etc. These products are usually consumed through a vaporizer or dab rig.
Flower
The most common form of marijuana flower is the bud, which is produced by harvesting and trimming the mature plant. Buds can be smoked or vaporized and are available in various strains with different potency levels.
Edibles
Edible marijuana products come in many forms, such as candy, cookies, brownies, and more. These products are an excellent option for those who don't want to smoke or vape flower but still want to get the benefits of marijuana.
Oklahoma Dispensary Market Size and Potential Opportunity
Although the Oklahoma cannabis industry is still in its infancy, it has already morphed into one of the nation's leading industrial cannabis states. According to a report from Grand View Research, the U.S. cannabis market size was estimated at $13.2 billion in 2022, projected to reach $40.1 billion by 2030.
As of 2023, nearly 10% of Oklahoma's population, around 400,000 residents, had a medical marijuana license. Additionally, the state has licensed more than 2,300 dispensaries – that's more than the number of gas stations in Oklahoma!
The market opportunity for opening a dispensary in Oklahoma is huge due to its expanding MMJ user base.
Plus, the lenient regulations in the state allow cannabis smoking and vaping anywhere that tobacco can be consumed, such as bars or sidewalks designated for smoking. This opens up a whole new world of creative marketing opportunities for dispensary owners.
Requirements for Opening an MMJ Dispensary in Oklahoma
Opening a medical marijuana dispensary in Oklahoma requires meeting certain criteria and following regulations set forth by the Oklahoma Medical Marijuana Authority.
The applicant must be 25 years or older, an Oklahoma resident, and have a good standing record. Additionally, an application fee of $2500 is required along with valid identification documents that include:
Proof of Oklahoma residency (driver's license, state ID, utility bill, etc.)
Identification documents (driver's license, state ID, passport, tribal ID)
Copy of the Oklahoma Secretary of State's certificate of good standing (if applicable)
Oklahoma tax permit
Ownership disclosure document
The prospective business must also pass a background check conducted by the Oklahoma State Bureau of Investigation and provide proof that its nearest perimeter wall is at least 1,000 feet from any public or private school.
In addition to complying with regulations on product types and labeling requirements, all dispensaries are subject to a 7% excise tax on sales as well as any additional local or state taxes that may apply.
How To Get A Dispensary License in Oklahoma
Now that you know what is required to open a dispensary in Oklahoma, the next step is obtaining a license.
To apply for an MMJ dispensary license, applicants must follow the Oklahoma Medical Marijuana Authority's request for proposal process. This includes providing detailed information about the proposed business, such as:
Business plan
Financial plan
Security and safety plans
Inventory control plan
Record keeping
Patient education
Here's a step-by-step guide to the process:
Visit the OMMA licensing portal and create an account using a valid email address.
After creating and logging in to your account, select "Business Portal" to start your application. Then, select "Create A New Profile."
You'll be asked to enter your legal business name. This will take you to your dashboard, where you can start your license application.
On the dashboard, click "Apply for a new license" and select your application type, which in your case is "Dispensary."
Follow the on-screen prompts and complete the application. Make sure to include all required documents, such as your proof of residency, tax permit, and ownership disclosure document.
Once you've completed your application, you'll be able to review it for accuracy. If everything looks good, submit your application along with the $2500 fee.
Once your application is submitted and accepted, you'll need to wait for approval from the OMMA before you can open your dispensary. Commercial license applications take 90 days to process, so make sure to plan accordingly.
Although the application process can seem daunting, it is very straightforward as long as you follow all the rules and regulations set forth by the Oklahoma Medical Marijuana Authority.
Is There a Limit to the Number of Dispensaries in Oklahoma?
Oklahoma has the highest number of medical marijuana dispensaries in the United States, with more than 2,300 currently open. However, due to a moratorium put into place on August 26, 2022, no new dispensary, grower, or processor licenses are being issued by the Oklahoma Medical Marijuana Authority.
The moratorium was part of HB 3208, which passed through the Oklahoma Legislature and was signed by Governor Stitt. It will last up to two years and was designed to give the state time to confirm that current operations comply with state laws and regulations.
However, current licensees are still able to apply for renewal of their existing licenses during this time. This moratorium will help stabilize the industry and ensure that there is healthy competition among dispensaries within the state.
Unfortunately, if you're considering opening a dispensary in Oklahoma during the moratorium, you will have to wait until it is lifted on August 26, 2024.